Tampa Concrete Contractors
Tampa Concrete Contractor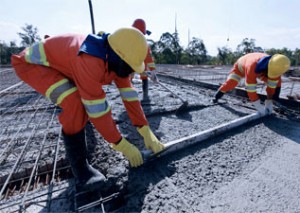 Tampa Concrete – AA Asphalt and Concrete provides all types of Concrete & Masonry, AA Asphalt and Concrete is Tampa Bay's full service concrete contractor. We specialize in providing high quality professional concrete and masonry services to the homeowner, business owner and property management company. With strong moral values, superior craftsmanship, outstanding communication and hard work, AA Asphalt and Concrete will definitely meet and exceed your expectations. Specializing in Driveways Patios, and Sidewalks. With Over 50 years of experience in the Asphalt and Concrete construction industry.
We take the necessary measures to deliver first-rate concrete work that will last for decades. Our areas of expertise include:
Removal and Replacement
Driveways
Walkways
Patios
Additions and Foundations
Concrete Slabs
Water Drainage
Concrete Pool Decks
Concrete Design Services
Masonry Walls
Concrete Brick Pavers
Concrete Boat Ramps
Concrete Retaining Walls
Concrete Stucco
Tampa Concrete Mix
Modern concrete mix designs can be complex. The choice of a concrete mix depends on the need of the project both in terms of strength and appearance and in relation to local legislation and building codes.
The design begins by determining the requirements of the concrete. These requirements take into consideration the weather conditions that the concrete will be exposed to in service, and the required design strength. The compressive strength of a concrete is determined by taking standard molded, standard-cured cylinder samples.
Many factors need to be taken into account, from the cost of the various additives and aggregates, to the trade offs between the "slump" for easy mixing and placement and ultimate performance.
A mix is then designed using cement (Portland or other cementitious material), coarse and fine aggregates, water and chemical admixtures. The method of mixing will also be specified, as well as conditions that it may be used in.
This allows a user of the concrete to be confident that the structure will perform properly.
Various types of concrete have been developed for specialist application and have become known by these names.
Concrete mixes can also be designed using software programs. Such software provides the user an opportunity to select their preferred method of mix design and enter the material data to arrive at proper mix designs.