Tampa Asphalt Contractors
Tampa Asphalt Contractor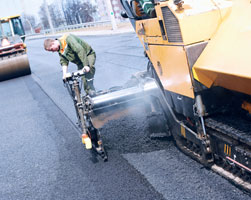 Tampa Asphalt – When it comes to paving companies in Tampa, AA Asphalt and Concrete is one of the best. With over 50 years of experience, AA Asphalt and Concrete is an established provider of asphalt paving services including sealcoating, striping, and routine maintenance appraisals – a comprehensive package that many of our competitors don't offer. Unlike any other paving company you'll come across, the range of services AA Asphalt and Concrete offers gives property owners the flexibility to design their own long-term maintenance plans. AA Asphalt and Concrete is dedicated to providing only top quality work, for all your asphalt and concrete jobs.
Some of the benefits of hiring AA Asphalt and Concrete include:
Materials – We utilize only high quality paving materials in accordance with industry "best practices" that all reputable paving contractors are expected to follow.

Consultation – At no extra cost, we will perform an analysis of your asphalt and then work with you side-by-side to develop a long-term maintenance plan that might include paving, sealcoating, crack repair, striping, or patching.

Warranty – We offer a 1-year warranty on all of our materials and labor so that you can rest assured everything will be kept in good working order long after the job is finished.
AA Asphalt and Concrete is a versatile and trustworthy asphalt company located in Tampa. In addition to our asphalt paving and asphalt repair services, we are also qualified to help business owners make their parking lots handicap accessible in accordance with the federal Americans with Disabilities Act (ADA).
Contact AA Asphalt and Concrete today for your paving needs and more. We have hundreds of satisfied customers and we are a respected paving company servicing Tampa and the entire greater Tampa Bay area.